Featuring SUCCESSOR patented one-piece welded aluminum cores in any size or configuration
Engineered, designed & manufactured to your specifications using CAD modeling
Copper-Brass & Aluminum radiator cores engineered to your diesel applications
Radiator & Cooling System Manufacturing
QS&T Radiators manufactures OEM Radiators, Charge Air Coolers and Engine Oil Coolers for the mobile and stationary equipment markets. Thanks to unique, patented designs, QS&T cooling systems offer unsurpassed durability, better cooling efficiency, and environmentally friendly materials.
Our radiator cooling systems are durable and adaptable. Common applications include heavy-duty off-highway equipment, heavy construction, industrial generators, high-performance automotive and OEM replacement. We can customize any radiator and charge air cooler for your specific application.
Working long hours in a hot environment? Then you will be particularly interested in our line of patented Successor Charge Air Coolers. They withstand temperatures of 650°F and keep on cooling. Why? Because they're manufactured with machined aluminum cores that are welded, not brazed. Successor cores are also available in radiator and oil cooling packages.
In addition to Successor Coolers, we also offer Quick Switch Radiators and Traditional OEM Radiators.
If you would like more detailed information on a specific product, or a quote for a specific application, please contact us.
QST Radiator Cooling Systems Brochure
QS&T Radiators is a division of Quality Stamping & Tube Corp. Please download the PDF for further information on how we can help in your next project!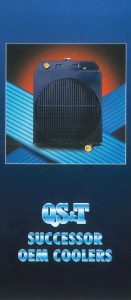 The SUCCESSOR Core - What's The Big Difference?
These patented one-piece welded aluminum cores offer advantages never before achieved or approached in radiators. There are no vulnerable tubes, no flimsy fins, no bonding agents to inhibit aluminum's excellent conductivity, and no incompatible bi-metallic heat expansion or molecular erosion. Solid extruded aluminum cores are so tough they easily withstand pressure spikes to 250 psi and impacts that would crush ordinary protective grill work. Cores can be extruded to almost any dimension from small material handling machines to large, (12 feet or more) stationary pumps and generators. They can also be welded to form compact, easily accessible side-by-side, front-to-back or cross-flow cooling packages.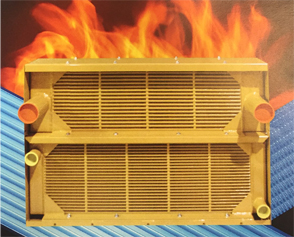 Custom Made Radiator Cores, Oil Coolers & CAC
Prototype To Production - One Unit or Multiple
Heavy duty copper designed to deliver uniform cooling in rugged diesel applications
Engineer-Design-Manufacture
No matter the complexity, we can design, engineer and manufacture a custom performance cooling package for your application
The Successor One-Piece Core Radiators
Configured to any length and size with side-to-side, front-to-back or cross flow water, oil and charge air cooling packages
Mobile Equipment 
Oil coolers for mobile hydraulic systems including  agricultural, mining & logging machinery
Stationary Equipment 
Custom radiators & cooling systems for generator sets, substations, heavy equipment & more
Fast Turnaround
For all of our jobs we offer fast delivery and outstanding service in the United States
Aluminum Radiator Cores Manufactured in USA
QS&T Radiators fabricates, welds & assembles all radiator cores and cooling system components in-house in our 50,000 sq/ft radiator department located in Jackson, Wisconsin.
We encourage innovation though transparency. Come visit our facilities.
By filling out this form you can help us continually improve.
Resources that will help you with all the information needed to get an accurate quote of our services.