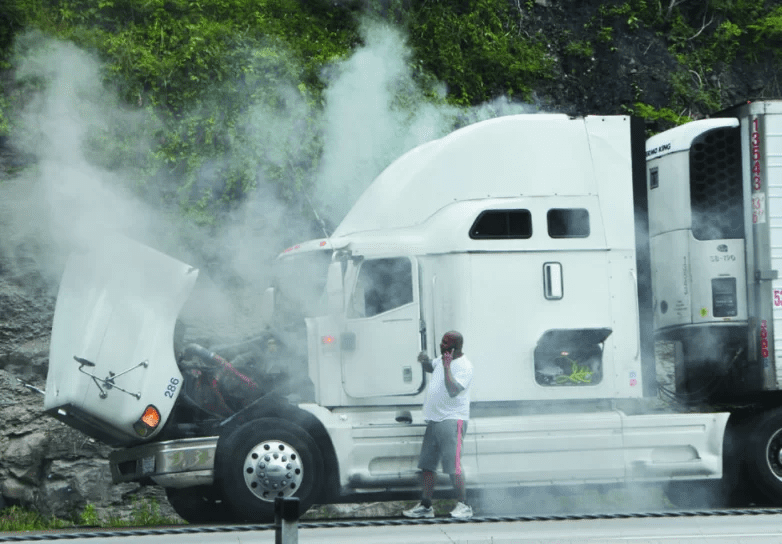 Retrofitting an aftermarket Charge Air Cooler (CAC) can improve fuel mileage by 0.89 miles per gallon, according to Global Heat Transfer, the Edmonton-based company that manufactures the component.
Randy Vanberg, sales and product development manager, says product testing in the field has shown Global Heat Transfer's CACs deliver improved fuel economy compared to original OEM brands. He points to an example of a Cat C-15-equipped Pete which delivered an improvement of 0.5 miles per gallon (MPG) once its OEM charge air cooler was replaced with one produced by Global Heat Transfer.
"These were not drawn from simulations on a dyno, they were done with actual trucks in service giving us the truest measure of fuel economy data that we could ask for," Vanberg says. "This is accomplished due to our plate and bar core configuration. Our coolers cool the charged air much more efficiently than an OEM CAC. This cooler air allows the engine to run more efficiently which equates to greater fuel economy."
How Aftermarket CACS Improve Efficiency
Charge Air Coolers (sometimes referred to as "heat exchangers") reduce the temperature of air leaving the compressor wheel housing so it is more compressed when it enters the combustion chamber (heat causes the air to expand). By providing cool, dense air, the CAC allows the engine to perform better while also extending its life expectancy.
While all new trucks come equipped with an OEM CAC, Vanberg says they often leak even when delivered straight from the factory.
"OEMs allow a 10 per cent leakage," Vanberg insists. "Why should a new CAC be allowed to leak? Once on the road, the CAC begins to leak more and more and before the trucker knows it, a new one has to be replaced."
Aftermarket Charge Air Coolers that are Leak-Free!
He adds Global Heat Transfer's CACs are 100 per cent leak-free when they leave the plant. They are guaranteed to remain leak-free for as long as the customer owns his truck. The cost of a new CAC is about CAD$995 for a one-truck operator while fleets can buy them in bulk for as low as $795 per unit. Based on the improved fuel economy customers are reporting, Vanberg says a payback time of three months can be achieved. He says all test results are verifiable, including the case of a Greenly, Colorado-based trucker who achieved a 15 per cent improvement in his MPG after replacing his OEM CAC with one produced by Global Heat Transfer.
That improvement amounted to 0.89 MPG and since he clocked an average of 12,000 miles per month, the operator used 140 gallons of diesel less than usual for a savings of US$279.42 in one month, Vanberg says.
"Over a year, that works out to US$3,650 or a 500 per cent return on investment in the first year alone," Vanberg says. "You can imagine what a customer's savings would be with 100 trucks. You're looking at a potential fleet savings of more than $300,000 per year with a fleet of 100 trucks."
How exactly does an aftermarket CAC deliver better fuel mileage than a factory-installed OEM CAC? Vanberg says it's all in the design of the unit.
Aftermarket Charge Air Cooler Design
"Our secret lies in the construction of our core," he explains. "We manufacture a plate and bar style core. This core is designed with a flat tube face and not the extruded tube OEM style which uses a rounded tube. Because our tube is flat, we have more face area, which allows us to dissipate more heat."
To further explain this, he draws the analogy of a hockey puck compared to a tennis ball with the flat hockey puck boasting a greater surface area.
Also, the company's CACs feature a tube wall that's only one millimeter thick, allowing the heat to transfer to the outer cooling fins more efficiently.
In addition, Global Heat Transfer welds its tanks directly to the core whereas most OEM CACs use 1/8-inch headers to hold the tubes in place. These header plates are one of the most common sources of CAC failures, and since they are not required on Global Heat Transfer's units, they are less prone to breakdowns, Vanberg says.
"Our U.S. office has been manufacturing this style of CACs in limited production for the last eight years with less than a 0.1 per cent warranty rate," Vanberg says.
Fueling Innovation: QS&T Radiators' patented CAC design.
Global Heat Transfer's CAC design is still relatively new to the truck market. Since it has now begun mass-producing its CACs for the trucking industry, however, Vanberg says they're now competitively priced.
"If you add our cost savings from the fuel economy gains, the reduction of downtime due to failed CACs, and the premature failure of engine parts due to the engine working too hard, our program really adds up in terms of savings," he insists.
"Combine this with the added effect that the company knows that they won't have to buy another CAC and it's a winning combination."
Find the original article and more at Truck News
Quality Aftermarket CACs Engineered to Perform Better
QS&T Radiators (a division of Quality Stamping and Tube Corp.) manufactures OEM radiators, charge air coolers and engine oil coolers for mobile and stationary equipment.
Our manufacturing facilities are in Jackson, Wisconsin, providing fast delivery and outstanding service throughout the United States.
For detailed information on any of our products, or a quote for your application, please contact us.