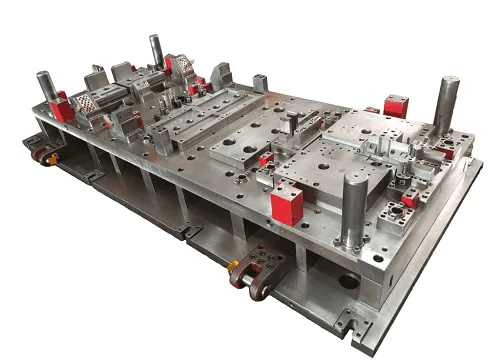 Progressive stamping is a metal forming process that can include bending, punching, coining and other techniques to modify raw metal material. An automatic feeding system pushes strip metal into a progressive stamping press as each station of the die performs a different modification.
As a progressive stamping company and progressive die manufacturer, Quality Stamping & Tube offers precision metal stamping plus value-added services, making us a single-source supplier of finished, high-quality stamped metal parts.
Progressive Metal Stamping & Die Manufacturing
QST provides progressive stamping and fabrication with guaranteed precision and repetitive accuracy.
There are many factors to be considered when designing a progressive die. Part orientation, how parts are carried in the strip, the order of operations and how a part is ejected are just some of the elements our engineers weigh carefully. QST has decades of experience creating progressive stamping dies customized for specific parts, and our team works collaboratively with customers during the design process to ensure the final result meets all specifications.
Our in-house tool & die room means you get quality progressive dies--guaranteed--and fast turnaround. Our capabilities include:
Stamping die design & manufacture
Progressive die design & manufacture
Single-hit die design & manufacture
Transfer die design & manufacture
Blanking die design & manufacture
Coining die design & manufacture
Draw die design & manufacture
Compound die design & manufacture
Forming die design & manufacture
Bending die design & manufacture
...and more! We maintain in-house tooling for each customer and for the life of every metal part produced. Our progressive stamping capabilities also add value as secondary operations for the custom aluminum extrusions we produce. If your metal part or project calls for alterations not mentioned here, just let us know. With our in-house die-making expertise and state-of-the-art, high speed automatic stamping equipment, chances are we can handle whatever is needed to produce your part to spec.
Progressive Metal Stamping Process
Using servo press feed technology the feeding system pushes a strip of metal through multiple stations of a progressive stamping die. The number of stations in a progressive stamping die depends on metal part geometry and complexity.
Each station performs one or more operations until a finished part is made, such as coining, punching, fine blanking, bending, shaving, cutting or drawing.
The final station is a cutoff operation, which separates the finished part from the carrying web. The carrying web, along with metal that is punched away in previous operations, is treated as scrap metal. Both are cut away, knocked down and then ejected from the die set.
Progressive stamping dies are highly complex and must advance and secure a strip of metal in a specific location with precise alignment to allow for proper timing and interaction of the upper and lower tools, pads and carriers.
Progressive Stamping Advantages
With automated feeding, fast production speed and more time between material changes, a well setup progressive die can run for days producing high quality, high volume parts.
Lower Labor
Cost Per Part
Progressive metal stamping:
Reduces the need for multiple die changes
One operator can manage several processes
Well engineered, highly optimized and durable progressive dies minimize scrap during the stamping process and in the number of rejected parts.
Progressive dies facilitate the manufacture of parts with complex geometries and tight tolerances. Hard-tooled progressive dies endure high-volume runs without degradation.
Wisconsin Progressive Die Stamping Company
Quality Stamping & Tube Corp. is a progressive die stamping company headquartered in Jackson, near Milwaukee. We offer competitive pricing on progressive metal stamping projects throughout Wisconsin and nationwide. We're proud to contribute to our customers' success by providing realistic progressive stamping solutions for complex applications, with fast turnaround and delivery.
Contact QST online today to ask us a question, or use the form below to request a quote for progressive die design and manufacturing. We're ready to take your project from prototype to production to finishing.