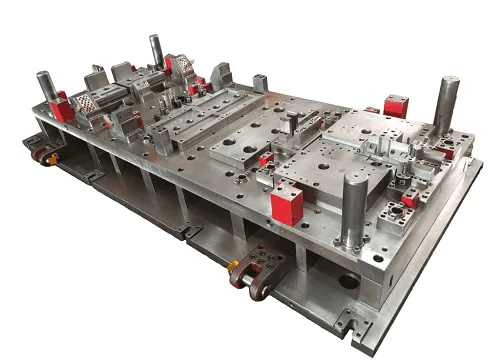 Progressive stamping is a metal forming process that can include punching, coining, bending and several other ways of modifying a raw material, combined with an automatic feeding system that will feed the material into a metal stamping punch press. As a progressive die stamping company, Quality Stamping & Tube offers full-service metal stamping as well as value-added services, making us a one-stop-shop for custom stamped metal parts.
Progressive Metal Stamping from Start to Finish
QST provides progressive stamping and fabrication with guaranteed precision and repetitive accuracy. Our in-house tool & die room means you get quality dies, guaranteed, and fast turnaround. We maintain in-house tooling for each customer and for the life of every metal part produced.
Contact us online to ask a question about our services, or request a quote for progressive metal stamping today.
Progressive Metal Stamping Process
Using servo press feed technology the feeding system pushes a strip of metal through multiple stations of a progressive stamping die. Each station performs one or more operations until a finished part is made. The final station is a cutoff operation, which separates the finished part from the carrying web. The carrying web, along with metal that is punched away in previous operations, is treated as scrap metal. Both are cut away, knocked down and then ejected from the die set, and in mass production are often transferred to scrap bins via underground scrap material conveyor belts.
Progressive Stamping Advantages
Wisconsin Progressive Die Stamping Company
Quality Stamping & Tube Corp. is a Wisconsin-based metal stamping company serving industry nationwide. We contribute to our customers' success by providing realistic progressive stamping solutions for complex applications, with fast turnaround and delivery.
Contact QST online today to request a quote or ask us a question. We're ready to take your project from prototype to production to finishing.