High Volume Metal Stamping
High volume metal stamping is a specialized manufacturing process used to form metal stamped parts from 60,000 to well over 1,000,000 pieces-per-year or more. Quality Stamping & Tube manufactures precise and accurate high volume metal stamped parts for everything from appliance production to civil construction.
Traditionally, high volume stamped parts can be very complex due a range of complications that large runs face. But thanks to advances in machinery, engineering and production, QST can manufacture standard or custom no matter how complex.
If you require high volume OEM parts, request a quote on your stamped metal part today!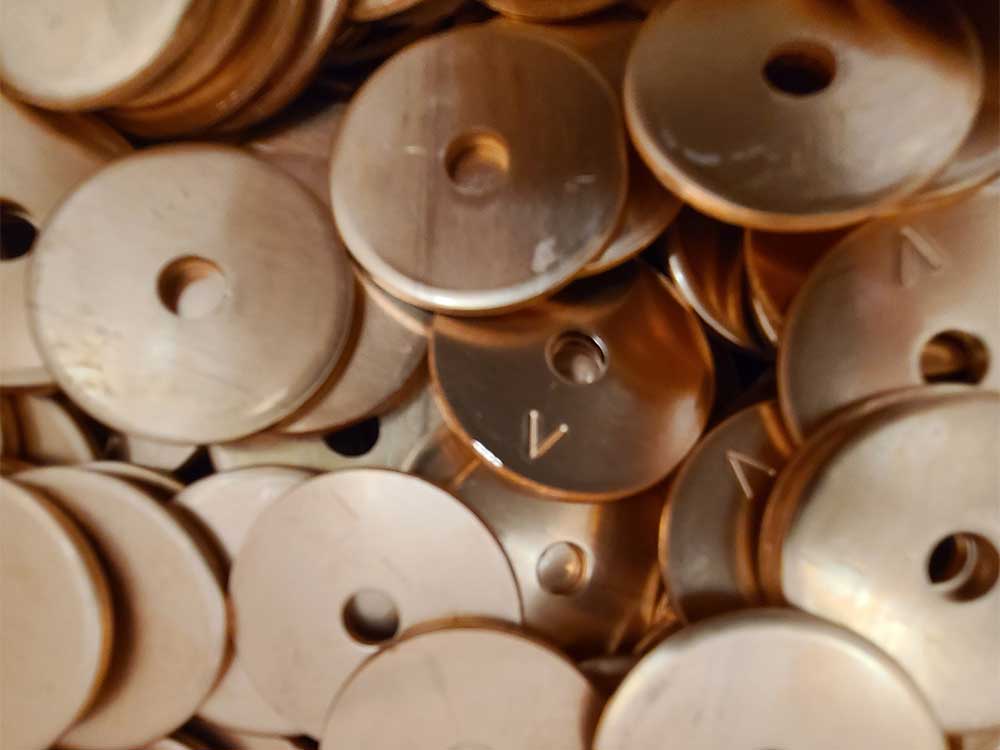 Metal Stamping Techniques for High Volume Runs
High volume metal stamping presents unique manufacturing challenges, which automatically eliminates many suppliers. Furthermore, tool wear, quality assurance, and run scheduling can quickly drive up cost and production time if not managed properly. QST uses progressive die stamping and compound die stamping for most high stamping runs. Both of these processes are recognized for their speed and accuracy.
With runs of more than 1,000,000 pieces-per-year, multiple presses can be rotated to complete jobs quickly. At QST, we constantly perform maintenance to upkeep our stamping equipment, ensure machine efficiency and eliminate unnecessary downtime.
High volume doesn't always mean just one part. It's more common that equipment manufacturers need 100,000-200,000 pieces each for 5-6 small and medium size parts during production, rather than plan for 1,000,000 pieces of 1 part. This means timing is a huge factor we consider when planning high volume runs.
We have over 12 stamping presses, ranging in tonnage from 25 - 200 tons. Through collaboration with experienced engineers, QST develops highly repeatable parts with minimal waste while our feed system ensures consistent quality and on-time delivery. The engineered product and process allows for a very high level of quality to be maintained.
Plus, QST is proud to be ISO 9001:2015 certified.
Materials Best Suited for Bulk Stamping
While metal stampings can be produced in a vast assortment of materials, supply chain issues, shipping weight, and inventory management are made more challenging with a high volume production.
We consider ourselves partners through every step of the process and offer experienced help with material selection and configuration to meet your required specifications for hardness, tensile strength, corrosion resistance, heat resistance and more. In-house tooling is maintained for each customer, and for the life of every part produced. Contact QST for a quote from our team for help with your next metal stamping project.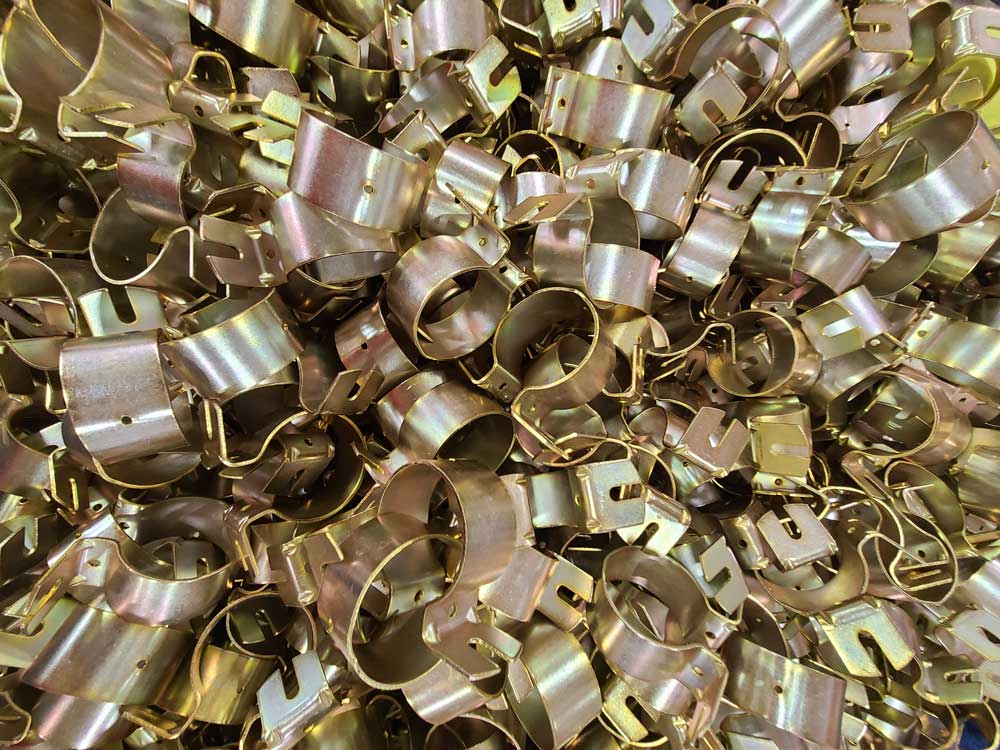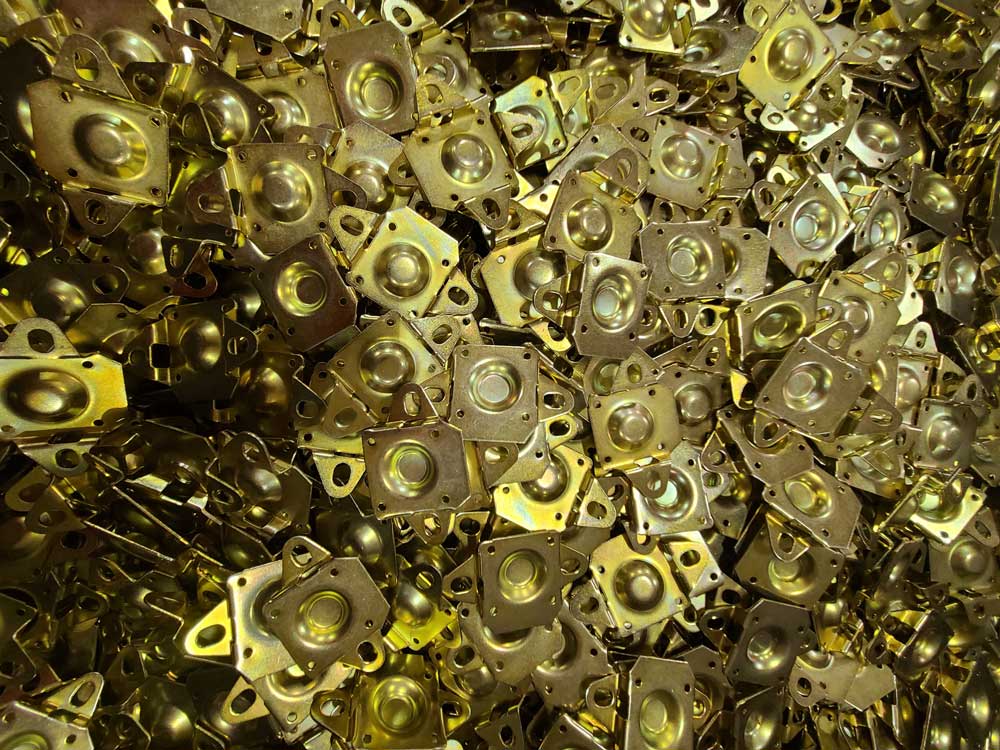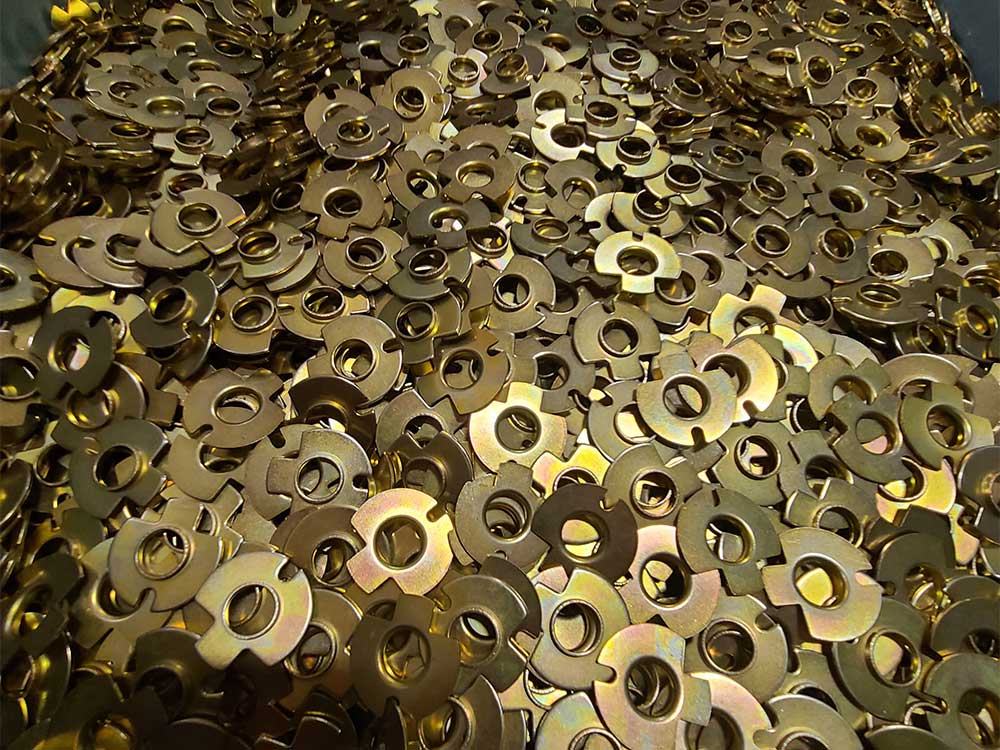 High Volume Stamping Applications
Large organizations demand large quantities of stampings to produce tools and goods. QST provides high precision metal stamping for customers in a variety of industries, including:
Aerospace/Avionics
Electronics
Marine
Military/Defense
Mining
Construction
Commercial Lighting
Lawn/Gardening
Appliances
Plumbing
High volume metal stamping enables these industries to supply affordable and quality parts. If your metal part or project calls for alterations or specifications not mentioned here, just let us know. With our in-house die-making expertise and stamping equipment, chances are we can handle whatever is needed to produce your part.
Your High Volume Metal Stamping Partner in Wisconsin
Headquartered in Jackson, Wisconsin, QST ships parts nationwide with competitive pricing. After 40 years of production, QST supports its clients in the marketplace and maintains quick prototyping, dependable execution, and outstanding customer service. Contact QST online for more information, or request a quote today.